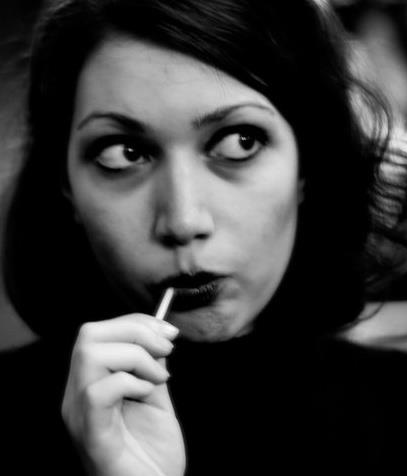 SARAH CLARK | EIC, Poetry Editor | They/Them/Theirs

Sarah Clark is a disabled two-spirit Nanticoke editor, writer, and cultural consultant. They are Editor-in-Chief and Poetry Editor at ANMLY, EIC of beestung, EIC at ALOCASIA: a queer plant-based magazine, Co-Editor of The Queer Movement Anthology (Seagull Books, 2023) and the Bettering American Poetry series, and a member of the Board of Directors at Sundress Press. They have edited feature folios for publications, including GLITTERBRAIN and Indigenous & Decolonial Futures & Futurisms at ANMLY, as well as folios on Sound Art, "Desire & Interaction," and a collection of global indigenous art and literature, First Peoples, Plural at Drunken Boat. At Apogee Journal, they were co-editor of #NoDAPL #Still Here and their series WE OUTLAST EMPIRE and Place[meant]. Sarah is a former Executive Board member at VIDA and former Editor-in-Chief of VIDA Review, where they curated a series of essays by writers outside of the binary, Body of a Poem and the interview series, Voices of Bettering American Poetry, and a former reader at The Atlas Review. Sarah freelances, and has worked with a number of literary and arts publications and organizations, including the Best of the Net anthology, contemptorary, #PoetsResist at Glass Poetry, Apogee Journal, CapsuleCrit, Blackbird, the Paris Review, and elsewhere. In their spare time, Sarah has strong opinions and is very queer. They cannot pass a Turing test. @petitobjetb.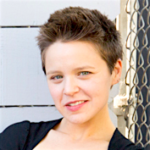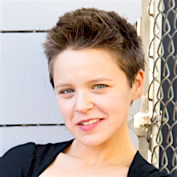 ANNA ROSENWONG | Translation Editor | She/Her/Hers
Anna Rosenwong is a translator, editor, and content strategist. Her work has been honored with the Best Translated Book Award and the American Academy of Poets Ambroggio Prize, as well as fellowships from the National Endowment for the Arts, the Banff International Literary Translation Centre, the American Literary Translators Association, the University of Iowa, and the University of California, Irvine. Read some at annarosenwong.com.
NICK POTTER | Comics Editor | He/Him/His
Nick Francis Potter is a writer, cartoonist, and educator. He is the author of New Animals (Subito, 2016). His short fiction, essays, and comics can be found in Black Warrior Review, Ninth Letter, The Offing, Big Other, Pank Magazine, Bat City Review, and Quarterly West, among others. He teaches writing and theory courses in the Digital Storytelling Program at the University of Missouri.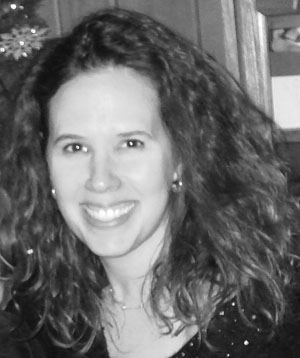 KATHRYN HENION | Fiction Co-Editor | She/Her/Hers

Kathryn Henion's fiction has appeared in Saranac Review, Natural Bridge, Green Mountains Review, The Briar Cliff Review, and Confrontation, among others. She is the recipient of Sequestrum Journal's 2018 New Writer Award for fiction. She earned a Ph.D. in English from Binghamton University, where she also served as editor of Harpur Palate. She lives and works in Ithaca, NY, where she serves as artistic director for the Spring Writes Literary Festival. kathrynhenion.com/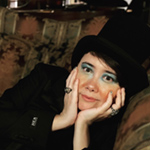 ADDIE TSAI | Fiction Co-Editor, Features & Reviews Co-Editor | Any/All

Addie Tsai is a queer nonbinary artist and writer of color. They collaborated with Dominic Walsh Dance Theater on Victor Frankenstein and Camille Claudel, among others. Addie holds an MFA in Creative Writing from Warren Wilson College and a PhD in Dance from Texas Woman's University. She is the author of the queer Asian young adult novel Dear Twin. Unwieldy Creatures, their adult queer biracial retelling of Frankenstein, is forthcoming from Jaded Ibis Press in 2022. They are the Fiction Co-Editor at ANMLY, Staff Writer at Spectrum South, and Founding Editor & Editor in Chief at just femme & dandy.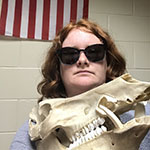 ASHELY ADAMS | Nonfiction Co-Editor | She/Her/Hers
Ashely Adams is a swamp-adjacent writer whose work has appeared in Paper Darts, Fourth River, Permafrost, Apex Magazine, and other places. She can be found on twitter @goosegloriosa. Send bonez pls.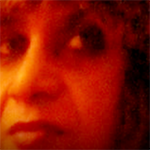 MIZZY HUSSAIN | Nonfiction Co-Editor | She/Her/Hers
Lancastrian born and bred, Mizzy Hussain currently resides in Scotland. She holds an Msc. in Creative Writing (Distinction) from the University of Edinburgh, taught by Scottish fiction writers/ poets Dilys Rose and Robert Alan Jamieson. In a past life, she completed an early course on memoir/creative non-fiction (Recording the Self: an autobiographical approach) at Birkbeck College, London, taught by renowned photographer/artist Rosy Martin and the late feminist writer Berta Freistadt. This resulted in her first published short story, "Return to England," in How Maxine Learned to Love Her Legs, an anthology of coming of age stories (Aurora Metro Press, 1995). Her first publishing achievement (a feature interview with a Doric poet) was a result of an unsolicited query/pitch to the magazine Aberdeen Leopard. Since then she has had work published in both online literary journals and in print. She was awarded Poem of the Month by The Guardian (April 2021) and is now working on her next poem, when not distracted by cat pics and dreams of living alone in a castle with hundreds of cats.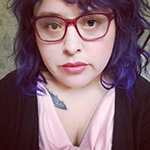 MILLISSA KINGBIRD | Assistant Fiction Editor | She/Her/Hers
Millissa Kingbird (Anishinaabe – Mille Lacs Band of Ojibwe) holds a Master of Fine Arts in Poetry from Institute of American Indian Arts in Santa Fe, NM. She writes poetry and the occasional lyric essay focusing on womanhood, bodies, nature, and trauma. She has been published in Hinchas de Poesia, Yellow Medicine Review, Red Ink, Connotations Press, The Rumpus, and Heavy Feather Review. When not writing, she contemplates small things.
jonah wu | Fiction Reader | They/Them/Theirs
jonah wu is a queer, non-binary Chinese American writer and filmmaker currently residing in Los Angeles, CA. Their writing has been published or is forthcoming in Longleaf Review, Jellyfish Review, Sinister Wisdom, Bright Wall/Dark Room, beestung, and others. You can follow them on Twitter or Instagram @rabblerouses.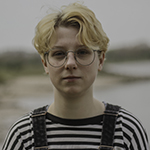 DINO de HAAS | Fiction Reader | They/Them/Theirs

Dino de Haas (they/them) is a queer artist based in the Netherlands who makes comics and games, or comics that are games. They also write poetry and short stories that are often comics or games, too, or might as well have been. In 2021, they earned a BA in Creative Writing from Artez University of Arts. They're the author of the sci-fi comic View. You can find them on twitter @dinodehaas.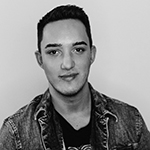 CARSON FAUST | Fiction Reader | He/Him/His
Carson Faust is a queer writer and an enrolled member of the Edisto Natchez-Kusso Tribe of South Carolina. His fiction has received support from the Minnesota State Arts Board, and he is the recipient of fellowships from the Jerome Foundation and the McKnight Foundation. His stories have appeared in TriQuarterly, Waxwing, Foglifter Journal, here in ANMLY, and elsewhere. He serves as a board member for 826 MSP—a nonprofit organization that provides literacy- and creative writing-based programming for underserved K-12 students in the Minneapolis-St. Paul area. Find him on Twitter and Instagram.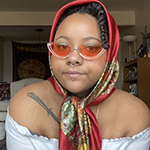 TALIA WRIGHT | Fiction Reader | She/Her/Hers and They/Them/Theirs
Talia Wright (they/she) was born and raised on the Southside of Chicago. They are a bookseller, poetry/prose writer, and 2019 Pink Door Fellow. They have been published in In These Times, Hooligan Magazine, Stellium Lit, and more. Their work is informed by blackness, the great migration, and spending summer afternoons dancing under their grandparents' Mulberry tree. Follow them on Instagram @cherub.jpeg.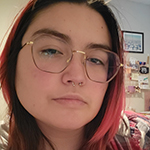 SG HUERTA | Nonfiction Reader | They/He
SG Huerta is a Chicane writer from Dallas. They are the author of the poetry chapbooks The Things We Bring with Us (Headmistress Press 2021) and Last Stop (Defunkt Magazine 2023). Their work has appeared in Split Lip Magazine, Infrarrealista Review, and elsewhere. They live in Texas with their partner and two cats. Find them at sghuertawriting.com or on Twitter @sg_poetry.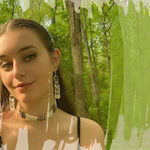 GILLIAN JOSEPH | Assistant Folio Editor | they/them/theirs

Gillian Joseph is a queer, 2-Spirit Ihaŋktoŋwaŋ Dakota storyteller and aspiring decolonial narrative therapist who grew up as a guest on Waxhaw & Catawba lands. They currently live in Berlin, and enjoy spending time near mní (water) + trying to figure out what their dreams mean.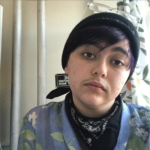 LIP MANEGIO | Assistant Folio Editor | they/he

Lip Manegio is a Pushcart & Best of the Net nominated poet, organizer, designer, & dyke. Their work has appeared in Glass: A Journal of Poetry, Puerto del Sol, the minnesota review, Tin House, and elsewhere. They hold a BFA in creative writing from Emerson College, serve as editor in chief/jack-of-all-trades at Ginger Bug Press, & are the author of We've All Seen Helena (Game Over Books, 2019). Find them at lipmanegio.com.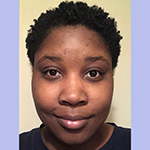 EBONY E. CHINN | Editor-at-Large | She/Her/Hers
Ebony E. Chinn is from New Jersey. She has received support from the Callaloo Creative Writing Workshop, The Watering Hole, AWP's Writer to Writer Mentorship Program, and the Bread Loaf Writers' Conference. She holds an MFA from the University of Alabama. Her work has appeared or is forthcoming in Obsidian, DIAGRAM, Lolwe, Frontier Poetry, Narrative, and Callaloo.
CHING IN-CHEN | Associate Poetry Editor | They/Them/Theirs
Ching-In Chen is the author of The Heart's Traffic (Arktoi Books) and recombinant (Kelsey Street Press) and co-editor of The Revolution Starts at Home: Confronting Intimate Violence Within Activist Communities. A Kundiman, Lambda, Watering Hole and Callaloo Fellow, they are part of the Macondo and Voices of Our Nations Arts Foundation writing communities. They have also been awarded fellowships from Can Serrat, Millay Colony for the Arts, the Norman Mailer Center and Imagining America. Their work has appeared in The Best American Experimental Writing, The &NOW Awards 3: The Best Innovative Writing, and Troubling the Line: Trans and Genderqueer Poetry and Poetics. They are a senior editor of The Conversant and serve on the Executive Board of Thinking Its Presence: Race, Advocacy, Solidarity in the Arts.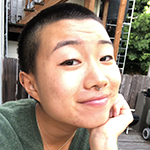 LUCY ZHOU | Assistant Poetry Editor | She/Her/Hers
Lucy Zhou is a technical writer based in the Bay Area. Her writing has appeared in HAD, Barren Magazine, X-R-A-Y Literary Magazine, and elsewhere. In 2020, she received an honorable mention for the Felicia Farr Lemmon Poetry Prize from the Academy of American Poets. She loves long-haired cats, labyrinths, and endlessly revising her pieces. You can find her on Twitter @lrenazhou.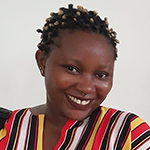 IYANUOLUWA ADENLE | Poetry Reader | She/Her
Iyanuoluwa Adenle is a poet from Nigeria. Her works make a conscious attempt to explore the human conditions based on grief, loss, and love. Her works have appeared or are forthcoming in Kalahari Review, African Writer, Empty Mirror, Onejacar, Lolwe, Kissing Dynamite, Olongo, 20.35 Africa, Blue Earth Review, Cosmonauts Review, Pepper Coast Lit, and elsewhere.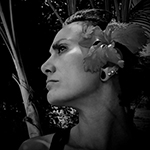 SONIA BEAUCHAMP | Poetry Reader | She/Her
Sonia Beauchamp is the daughter of a Chinese immigrant. She is a healing artist, teaching assistant, and mother of two. Her writing examines multiracial, feminist, queer identity and appears in Hawai'i Pacific Review, Wussy Mag, Typehouse Literary Magazine, and elsewhere. You can find her surrounded by feral chickens on the North Shore of O'ahu and at soniakb.com.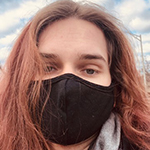 WILLOW JAMES CLAIRE | Poetry Reader | They/Them
Willow James Claire is a trans poet from Arizona. Their work has been nominated for both the Best of the Net and the Pushcart Prize anthologies, and has appeared or is forthcoming in Frontier, Protean, The Indianapolis Review, and Foglifter. Willow holds an MFA from Sarah Lawrence College.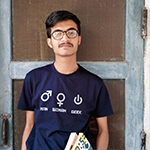 ASHISH KUMAR SINGH | Poetry Reader | He/Him
Ashish Kumar Singh is a queer poet from India with a Master's degree in English Literature. Previously, his works have appeared. or are forthcoming in, Chestnut Review, 14poems, Bombay Literary Review, Mason Jar Press, Banshee, Tab Journal, and elsewhere. He serves as a poetry editor at Indigo Literary Review and has recently joined the editorial team at Visual Verse. You can find him on Twitter @Ashish_stJude and Instagram @ashish_the_reader.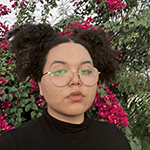 NÉLARI FIGUEROA TORRES | Poetry Reader | They/Them/Theirs
Nélari Figueroa Torres (they/them) is a queer Puerto Rican writer, editor, black coffee drinker, and current undergraduate student at Brown University studying English and Africana Studies. Their current interests include expressions of queerness and spirituality within the Caribbean. These endeavors are facilitated by the use of archives to create multi-media and written work centering on Puerto Rican identity and fragmented histories. Their work is featured or forthcoming in Querencia Press, Acentos Review, Beaver Magazine, Somos Latinx Literary Journal, and various zines.
ALLISON THUNG | Poetry Reader | She/Her/Hers
Allison Thung is a poet and project manager from Singapore. Her poetry has been published or is forthcoming in Chestnut Review, ANMLY, Heavy Feather Review, Maudlin House, Lumiere Review, and elsewhere. Find her on Twitter @poetrybyallison or at www.allisonthung.com.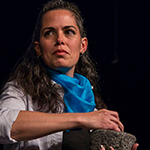 MARÍA JOSÉ GIMÉNEZ | Translation Assistant Editor | She/Her/Hers
María José Giménez is a poet, translator, and editor whose work has received support from the NEA, the Studios at MASS MoCA, the Breadloaf Translators' Conference, Canada Council for the Arts, and the Banff International Literary Translation Centre. Author of CHELATED (Belladonna*) and 2019–2021 Poet Laureate of Easthampton, Massachusetts, María José was awarded the American Academy of Poets Ambroggio Prize for Mara Pastor's bilingual collection DEUDA NATAL, with Anna Rosenwong.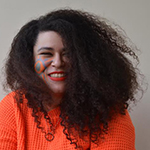 NOUR KAMEL | Translation Assistant Editor | She/They
Nour Kamel writes, edits, and bakes things in Egypt. Their chapbook Noon is part of the New-Generation African Poets series and her writing appears in various places including Rusted Radishes, World Literature Today, The Shade Journal and Mizna. Kamel writes about identity, language, queerness, gender, oppression, family, and food.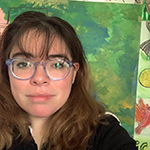 SAM MOE | Translation Assistant Editor | She/Her
Sam Moe is the first-place winner of Invisible City's Blurred Genres contest in 2022, and the 2021 recipient of an Author Fellowship from Martha's Vineyard Institute of Creative Writing. Her first chapbook, "Heart Weeds," is out from Alien Buddha Press and her second chapbook, "Grief Birds," is forthcoming from Bullshit Lit in April 2023. You can find her on Twitter and Instagram as @SamAnneMoe.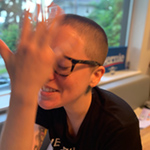 MAXINE SAVAGE | Translation Assistant Editor | They/Them/Their
Maxine Savage is a translator, writer, and educator whose work has been supported by the Fulbright Commission and the American-Scandinavian Foundation. Their scholarly and creative work has appeared in PARSE Journal, Ós – The Journal, Seedings, and elsewhere. They are a PhD Candidate in Scandinavian Studies at University of Washington.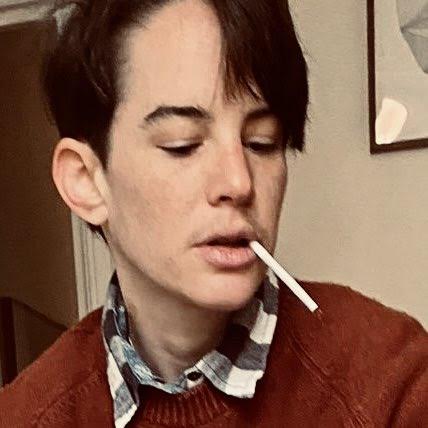 MIN STRAUSSMAN | Translation Assistant Editor | he/him/his and they/them/theirs
Min Straussman is an essayist, poet, translator, and educator living in Paris. He holds a master's degree in comparative literature from the Sorbonne. Since 2017, he has been a regular contributor to Dictionary[dot]com where he writes about etymology and language. His work has also been published in in Hey Alma and beestung, and he has a book forthcoming on Gershom Scholem, Walter Benjamin, and the connections between kabbalah and the urban environment. He is fascinated by the fragmented, the esoteric, and all things related to his hometown of Pittsburgh, Pennsylvania. You can find his work at mintherose.com or on Twitter @mintherose.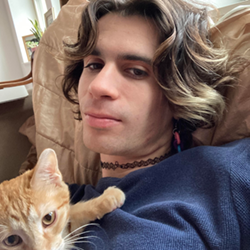 NOA/H FIELDS | Social Media Editor; Blog Assistant Editor | They/She
Noa/h Fields is a Chicago-based poet. Their writing appears in Tripwire, Zoeglossia, Sixty Inches, Ghost City Press, and elsewhere. She loves to go dancing and she believes in entropy, wild captioning, oblique strategies, and collective dream communication.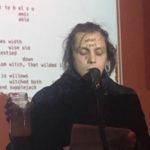 ZEBULON WIMSATT | Folio Editor | They/Them/Theirs
Zebulon Wimsatt lives in Rhode Island. They study and work in public library systems; previously, they studied digital language arts at Brown University. Their poems about and illustrations of hourses have been published in the online journal E•ratio, and in the print journals Pallor Pink and Transversals.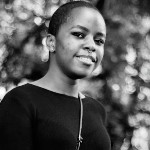 GREY OLETSA | Raia Reviews: Your Black Media Hub! Editor | They/Them
Besides people-watching and participating in the simulation, Grey Oletsa, the Nairobi-based filmmaker creates community through art. Grey Oletsa is a magician and words are their playground. When Grey isn't neck deep in birth-work, they bring stories to life through musical poetry and a sense of humor that functions against all odds.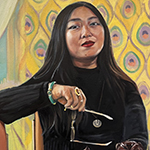 SHANNON HONG | YAYSIAN Column Editor | She/Her/Hers
Shannon is a Chinese American writer and technologist. She sits on the board of Counterpulse, an experimental performing arts nonprofit in San Francisco, and she publishes an irregular newsletter called Shannonigans. She writes about family and rituals, recognition and longing, intersections and confusions, and wonder. One day, she'll open a tea shop.
LAY DAVID ELLIETTE CRAY | queerview Column Editor | She/They
Ley David Elliette Cray is a queer writer, scholar, educator, and advocate. In addition to her work as a sexological embodiment coach, Ley teaches Queer Mindfulness and serves as the LGBTQIA+ Curriculum Coordinator for the Sexual Health Alliance. Her writing on gender has been published in just femme & dandy and Aesthetics for Birds, with expert interviews at Healthline, Mindbodygreen, and Yoga Digest.She holds a PhD in Philosophy and has published scholarship in American Philosophical Quarterly, British Journal of Aesthetics, Journal of Aesthetics and Art Criticism and others. Ley currently resides in Las Cruces, New Mexico, where she watches a lot of horror movies with her cats. You can read more about her work at http://www.transentiencecoaching.com.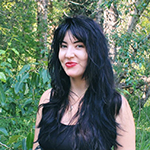 ALYSSANDRA TOBIN | DIS/CONNECT Column Co-Editor | She/They
Alyssandra Tobin (she/they) was grown on Boston's North Shore. She is the author of the chapbook, Put Eyes on Me Not Like a Curse, published by Quarterly West in 2022. Her poems and essays appear in Poetry Northwest, Gigantic Sequins, Grist, Puerto del Sol, The Pinch, and elsewhere. She is a PhD student in English at Oklahoma State University.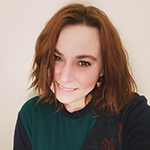 RAYE HENDRIX | DIS/CONNECT Column Co-Editor | She/They
Raye Hendrix is a writer and photographer from Alabama. Raye is the author of the poetry chapbooks Every Journal is a Plague Journal (Bottlecap Press) and Fire Sermons (Ghost City Press). She is the winner of the 2019 Keene Prize for Literature and Southern Indiana Review's 2018 Patricia Aakhus Award. Their work has been or will soon be featured in Poetry Daily, American Poetry Review, 32 Poems, Shenandoah, Poet Lore, Cimarron Review, Poetry Northwest, The Adroit Journal, and elsewhere. Raye is the Poetry Editor of Press Pause Press and a PhD candidate at the University of Oregon working in English and Disability Studies. You can find Raye on social media or at rayehendrix.com.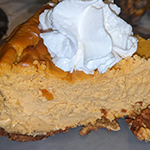 CHLOE N. CLARK | From The Fridge to The Frying Pan Column Editor | She/Her/Hers
Chloe N. Clark is the author of Collective Gravities, Patterns of Orbit, Escaping the Body, Your Stranger Fortune, and more. Find her on Twitter @PintsNCupcakes

ERICA MENA | Editor & Executive Director, Anomalous Press | They/Them/Theirs
Erica Mena is a Puerto Rican poet, translator, and book artist. Their book Featherbone (Ricochet Editions, 2015) won a 2016 Hoffer First Horizons Award. Their translation of the classic Argentine sci-fi graphic novel The Eternaut (Fantagraphics, 2015) won a 2016 Eisner Award. They holds an MFA in Poetry from Brown University, an MFA in Literary Translation from the University of Iowa, and an M.Phil in Culture and Criticism from the University of Cambridge. They are a visiting lecturer in poetry and book arts at Brown University. Follow them on Instagram, Tumblr, or at acyborgkitty.com.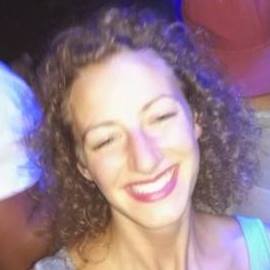 GENEVIEVE PFEIFFER | Assistant Director | They/Them/Theirs
Genevieve Pfeiffer is curating a folio on reproductive justice and its intersections (they urge you to submit). They are a writer and poet, and facilitate workshops with survivors of sexual assault and harassment. Their work is forthcoming or has been published in Erase the Patriarchy, Juked, So to Speak, Stone Canoe, and more. They oscillate between NYC and the mountains, and you can find them where there are trees. Genevieve blogs about outdoor wanderings and herbal birth control's intersections with witches, colonization, and personal and bioregional health at: medium.com/@GenevieveJeanne.